Description
Stem Spacer – the spacer for Direct Mount stems
Many riders swear by raising the front in downhill these days. Some use high rise handlebars, others clamp stem spacers between the fork crown and handlebars or build headset spacers under the upper crown.
The reason for this is obvious:
Raising the front end results in more safety on steep tracks
It takes some pressure off your hands and makes for more relaxed runs
Fine tuning of the riding position and therefore wheel loads is possible – the cornering behaviour of the bike can be positively influenced
Sensible is such an increased stack especially when frames with a very long reach (very large frames) are used: In some circumstances, the rider would be positioned too much on the handlebars with a flat front. By raising the front he stands a bit more upright and thus experiences a more central riding position.
The increased stack is also useful for very tall riders who would otherwise achieve a very stooped "steering" position.
The special feature of our spacer, however, is that it not only raises the steering center by 12 mm, but also moves the stem forward by 10 mm: Due to the very flat head angle on modern DH bikes, when the stem is raised, the entire unit also moves to the rear, shortening the rider's "working space."
If the rider uses an 8 mm thick headset spacer ring in conjunction with our 12 mm high Stem-Spacer 12/10, he increases his front end by a total of 20 mm. Combined with a 63° head angle, a 20mm increase would move the handlebars back 10.2mm – our spacer exactly offsets this difference in length, effectively moving the handlebars up.
The spacer has been FE-calculated for its operational strength and durability, and has been subjected to operational testing in the EFBE testing laboratory in accordance with EFBE Standard 7520. The requirements of the test correspond to the EFBE performance class MTB-G for Gravity Mountain Bikes (TPM-G). The test was passed.
Scope of delivery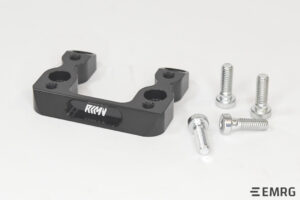 Included are a spacer and 4 mounting bolts for secure installation on the fork crown.
Compatibility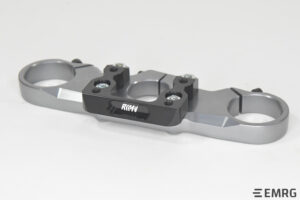 The spacer fits state of the art fork crowns such as those found on current RockShox, Fox, BOS, Marzocchi, or Manitou downhill forks.
Technical details
Material: EN AW-7075
Color: Black
Weight: 43 g
Height: 12 mm
Horizontal offset: 10 mm